forbes

(BBC News via AP)

Craig Wright, who claimed to be the creator of Bitcoin and the man behind the Satoshi Nakamoto pseudonym in May 2016, is facing a $10 billion lawsuit in the state of Florida. The suit is being brought forth by the brother of Dave Kleiman, who Wright has said helped with the development of Bitcoin in the earliest days of its existence.
Although Wright was able to convince well-known Bitcoin community members Jon Matonis and Gavin Andresen of his story regarding the creation of the world's first widely-used cryptocurrency, the Australian computer scientist backed out of providing cryptographic proof of his claim for the entire world shortly after an initial media storm that involved the use of a PR agency.
In the past, Motherboard reported on the fact that the cryptographic keys originally used to tie Craig Wright to one of Satoshi's known online identities were likely backdated and pointed to a hoax.
The $10 Billion Lawsuit
The basis for this new lawsuit is that Wright forged signatures and backdated documents in an attempt to obtain billions of dollars worth of bitcoin and intellectual property that were allegedly held jointly by Wright and Kleiman. Court documents allege Wright used a computer-generated font to forge documents with Kleiman's signature.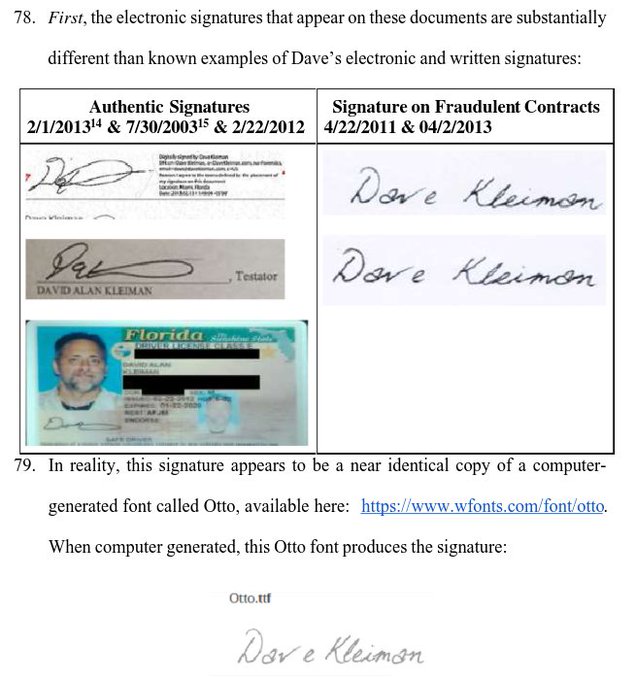 The $10 Billion lawsuit against Craig Wright claims Wright used a computer-generated font called Otto to forge Dave Kleiman's signature and acquire hundreds of thousands of bitcoins.

6:15 PM - Feb 26, 2018


589
358 people are talking about this



Twitter Ads info and privacy

The exact amount of bitcoin Wright is said to have taken from Kleiman is unknown. The correct amount is to be figured out in court.

"To accomplish this scheme, he drafted and backdated at least three contracts to create a paper trail purporting to document that many of Dave's bitcoins and IP rights were to be transferred, sold, and/or returned to himself," the suit claims.

A report from Wired from late 2015 indicated that Wright may have also backdated blog posts that had been used as supporting evidence of his connection to the Satoshi pseudonym.

Proof of No Bitcoin Holdings?

Up to this point, Wright has provided less-than-cryptographic proof that he is Satoshi Nakamoto. In fact, there are many indications that this has been nothing more than an elaborate hoax.

According to a blog post by Bitcoin security firm WizSec, this lawsuit may further weaken the already tenuous connection between Wright and Satoshi.

After going through the lawsuit filing, WizSec's Kim Nilsson realized many of the Bitcoin addresses involved in the suit were never owned by Kleiman or Wright. In fact, they are publicly-known addresses that simply held a large amount of bitcoin at one point in time.

"This isn't some grand conspiracy of having stolen a million bitcoins, it's some guy browsing a 'blockchain rich list', picking out a couple of addresses at random and saying 'I own those' for whatever reasons, while offering no evidence except for some clumsy document backdating. These claims would never have gotten past an actual specialist," says Nilsson's blog post.

In reality, many of the addresses allegedly owned by Kleiman and Wright have been connected to now-defunct bitcoin exchange Mt. Gox. WizSec is perhaps best known for their role in the investigation of the missing Mt. Gox bitcoins, which they eventually traced to another exchange, BTC-e.

While Wright has made a lot of noise about the possibility that he is Satoshi Nakamoto over the years, cryptographic proof is always missing. As Ethereum creator Vitalik Buterin infamously pointed out shortly after Wright told the world he was the man behind Bitcoin, the simplest answer to why he has yet to provide any proof is that he is unable to do so because he is not Satoshi Nakamoto.

forbes
I first used Bitcoin in 2011 and have covered the topic as a writer since early 2014. Subscribe to my

daily newsletter

,

YouTube show

, and

podcast

. Follow me on Twitter (

@kyletorpey).

forbes